How awesome are shrimp kabobs? They are amazing! They are mouthwatering goodies and very simple to prepare. They can be your main course or added to your grill with steak and chicken. When grilling the shrimp it becomes plump and succulent. Chop up your favorite vegetables and add them to your kabobs.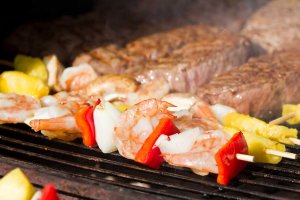 Here is a fantastic recipe for Glazed shrimp and vegetable kabobs:
INGREDIANTS
16  7- to 8-inch wooden skewers
2 tablespoons honey
2 tablespoons spicy brown mustard
1 1/2 pounds peeled, jumbo-size raw shrimp with tails (16/20 count)
1 tablespoon Caribbean jerk seasoning
2 tablespoons olive oil
1/4 teaspoon salt
3 yellow squash, cut into 1/4- to 1/2-inch slices
2 zucchini, cut into 1/4- to 1/2-inch slices
1 red bell pepper, cut into 1 1/2-inch pieces
1 tablespoon olive oil
Salt and pepper to taste
DIRECTIONS
Soak wooden skewers in water 30 minutes. Stir together honey and spicy brown mustard. Toss shrimp with Caribbean jerk seasoning, 2 Tbsp. olive oil, and 1/4 tsp. salt.
Thread onto 8 skewers. Thread squash slices, zucchini slices, and red bell pepper pieces, onto remaining skewers.
Brush vegetable kabobs with 1 Tbsp. olive oil; sprinkle with salt and pepper to taste.
Grill kabobs, covered with grill lid, over 350° to 400° (medium-high) heat. Grill vegetables 15 minutes or until tender, turning occasionally.
Grill shrimp 2 minutes on each side or just until shrimp turn pink. Baste shrimp with honey mixture.
Serve immediately.